We're almost done with the album.  Really.  We actually have complete final mixes of some songs, we've taken pictures for the artwork, coordinated with a graphic artist, and decided on the packaging...so things are happening.  We'll definitely update you when we have a date and venue for the release party...let us know if you have any suggestions! 
booking@viewtheband.com
.
But even with all that, we're not really rock stars (unless you count Justin, of course.)  But anyway, here's a bit of insight into what it's like to be a musician in a local band who's out there playing shows.
Shows are crazy.  There's the organization of the show itself - coordinating with the venue for the date (and with the babysitters if necessary), securing and/or coordinating with the other acts, deciding and compromising on the order of the acts and the split of the door, planning a set list, rehearsing, promoting on the website, Facebook, MySpace, through posters, newspapers, radio, to all your family, friends, co-workers, enemies, random people on the street...
Don't get me wrong.  Most venues and bands are easy to work with, and used to dealing with all sorts of situations.  We wouldn't do this if we didn't love you all and want to share our music!
So the day / night of the show comes.  You pack up your gear, and...
...the babysitter's late, and your bandmate's car breaks down.  You work it out, load up the vehicles, drive to the venue, and when you finally get to the gig, any or all of these can happen (and they have...these are real life examples from yours truly):
The sound person's late
The venue doesn't have their (or any) sound equipment
The venue doesn't have you on the roster
One of the acts doesn't show up on time or at all
The other act tries to get a bunch of underage people into the venue (especially fun if you coordinated the bill)
It's winter, and the furnace doesn't work, so it's about 40F in the venue
There's been a fire at the venue that day, and they have shut the place down
It's snowing, sleeting, hailing, raining, sunny, windy, cold, and hot (all in the same day)
There's no place to stow your gear
You have to wait outside while they clean the venue
Anyone other than immediate band members have to wait outside / downstairs while you load in.
You make the best of it.  It's exciting.  You're getting to share the music you create with your friends at a cool venue, and on a really good night, you even get to share it with people you don't know too...
Sometimes, it all comes together.  The babysitter shows up on time, everyone's vehicles work, you're headed to a venue you love and have played before.  The other acts are great, cool people you like to hang out with.  Everyone's on time, prepared, and in a good mood.  You know the sound person, and they rock.  Lots of people come.  The other acts play on time, bring people, and are respectful - even helpful - to you and to each other.
So with all that, one of the most important aspects of a show is your equipment.  It has to work, in all types of conditions...even after getting carted all over, torn down, set up, left in the cold or heat for hours, getting beer spilled on it, hanging out in smoky clubs, etc.  It just has to work.
So I (BJ) recently ran into an issue with one of my pieces of equipment.  I've had it for a while, and really grown to love it - a Digitech GNX2 guitar multi-effects pedal.  Yep, that thing I stomp on on stage at each show.  It HAS had a beer spilled on it.  Still works.
Until...
You try and use it in the sunlight.  And the display washes out.  As in, it's on, but you can't read it at all.  Here's a pic - yes, it is on: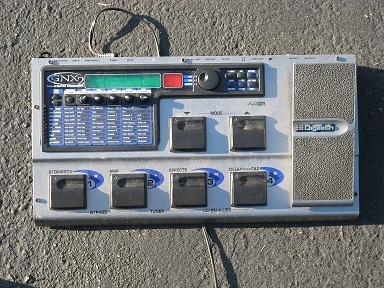 Unreadable.  Even with good shading, it's unreadable.
Now this has been a good pedal.  It was affordable, sounded great, was very flexible, and did almost all I wanted.  Except play nice out of doors.  And to boot, it was made in the USA!
So, I (BJ still) recently made a purchase.  And I want to sing its praises from the rooftops of the world.  AND, I even have a picture of it in the sunlight: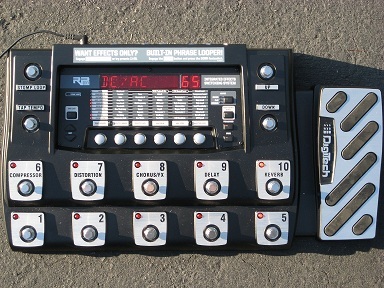 Notice the difference?
I sure hope you will, at the next show, August 15th at Liberty Plaza.
When I can see my pedal (and its built in tuner) in the sunlight.
Provided it doesn't rain...